Last Update: Sep 20, 2019
When you meet "Affilorama" name on your journey to "Make Money Online" undoubtedly you become curious and you wanna DIG a little more … one of the biggest discussions in the internet marketing field, comparisons with Wealthy Affiliate come and go, everybody is messing up in this battle. The two giant communities though have a common goal.
Both were born to help people make money with affiliate marketing and as a return to make a profit while offering their services, material and forum capabilities for a price. But I am not going to compare the fighters in this post although that is … in my future plans … 
Affilorama Free Membership

 
What is Affilorama anyway?
For those that do not know Affilorama, is an affiliate marketing training portal. Teaching affiliate marketing, offering tools and software, website hosting and other services like the blogroll and the forum. In other words, it is a marketing community that is designed for people that want to begin an online career. Co-founded by Mark Ling and Simon Slade Affilorama offer services to the public since 2006 and is one of the top-rated networks in the industry.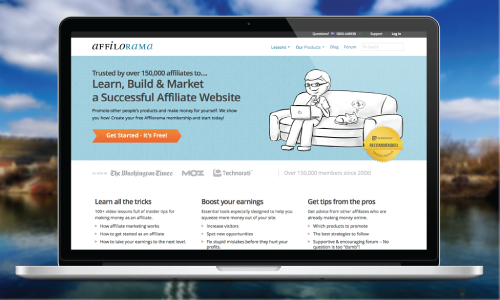 Affilorama – Getting Started
There comes a free PDF about Affiliate Marketing. This came as a nice surprise. This PDF is a high – value introduction to Affiliate Marketing, how it works, analysing the benefits of this type of business , and explains in wonderful illustrations how you can build your website, how to do that in WordPress, how to create content to attract visitors, how to make sales and eventually making a new introduction to email marketing and the social media.
This is one of the best intro letters I have found on the internet about affiliate marketing. A great way to let newcomers know about this great opportunity, "Affiliate Marketing:".
Looking for Ways to Start an Online Business? Here's a List of the Best Solutions
Affilorama Free Lessons – Introduction
I watched an 8-minute video from Simon Slade identifying Affiliate Sites.He demonstrated how Affiliate sites look like, how they get ranked in search engines and how that can help us have an overall idea of building our own website.A great presentation by Simon, clear and straight to the point, these type of videos are the most efficient. Underneath the video, there is a whole post explaining all of the above if you prefer to read instead of watching the video.
I watched 2 more videos all full of valuable information, exploring more ways to drive traffic to our website using specific strategies like posting content on articles directories and other submission engines. The training continued analyzing the topic "How can we find profitable niches" including a mini – guide to Clickbank (one of the world's most popular affiliate networks for digital products).
I couldn't believe that I found such a Goldmine of information just For FREE…
The training consists of both written material and videos
Lessons about Market Research – a Huge Topic in Internet Marketing
Keyword research and SEO analysis (tools & techniques), how internet marketing works, alternative affiliate networks to Clickbank, understanding the market demand (where to use PPC and SEO), how to choose an affiliate program according to your website needs, how to use CJ Affiliate known also as Commission Junction.
In those sections, there are also posts from members (mostly questions) that are answered by staff members helping them out. An active community like it should be. There is no question about that, in such a difficult world like Internet Marketing, you need the help of experienced marketers to show you the way.
Only one objection here, the lack of a "Keyword Research Tool" that it would fit perfectly helping everybody understand what is going on in minutes.
Lessons in Content Creation
This lesson emphasizes that in order to succeed online with your website you have to write content and proceeds with an introduction to product reviews. But in addition, there is a section for those that are afraid to write their own content and Affilorama provides a solution, out-sourcing relevant content that is pre-made.
———————————————————————————————————————————
Now let's make a great parenthesis here that will help you understand better because this subject is one of the most discussed subjects in that affiliate marketing …
"tournament"

… and lots of marketers accused

Affilorama

Affilorama USED to propose for those afraid to write content on their own PLR Articles (Private Label Rights Content), content that is included in written materials (such as e-books, articles on the web and so on). What you could do with that ready content was to edit it (enough though) to make it somehow unique and use it for your campaigns claiming the authorship.

Also, Affilorama was providing ideas and lessons on how to avoid the famous "Duplicate Content Penalty or in other words (No Rankings)" and we know that every search engine is hunting for content that is copied. And the search engines do it for a very good reason. Because who wants to read articles that are copied and look the same?…These type of articles result in a not so great experience for online users and they are somehow repetitions of something old. But in order to make internet a valuable resource and to improve ourselves and the users' experience we need unique content…

And not only the search engines and the users will be satisfied with that kind of improvement. In the internet marketing world where hundreds of thousands of marketers publishing articles and content every day, how do you think that "YOU as a new marketer" will succeed? How can you "shine" and differentiate from the rest of the world if you do not write something on your own?..How can you attract people not only to read your unique and quality content but to share it as well with their networks? Definitely, the answer is NOT to copy someone else's work.
Everything moves on, the technology is now providing solutions that could not even cross the mind of our ancestors let's say 200 years back. The doctors now cure almost every disease that was killing millions of people a few decades before. The astronomers have plans to make the planet "Mars" a new home for the humans. What if they were copying their ancestors? would that lead to any improvement? NO, if we all just copy one another and only repeat what the ancient people did then we eliminate the chance of getting better. "Everyone can be unique if let the time speak."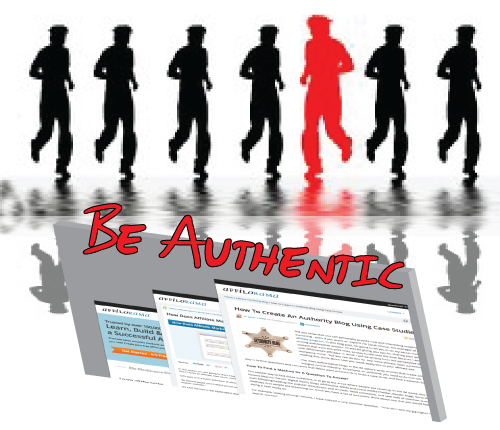 I know that Mark Ling had only one purpose in mind when he created that kind of training inside Affilorama. He wanted to help those had a low level of Self-Confidence. I know it is not the easiest job in the world to write content. Some of us have read hundreds of books, been to colleges and universities while some other only read a newspaper once in a year or they never went to school.
But if you give more time to yourself then soon you will realize that while reading and practising you can become better and better as time goes by, no matter the volume of education or experience you have. If you want to succeed fast then I can tell you that this is not possible unless you win the Lottery or the Casino, that means you need "Time".
And there were a lot of reviews that blaming Mark Ling and Affilorama for such techniques. But Mark changed. Took those reviews as advice. Probably that reviews made him understand the true meaning of being unique with your content. So he updated his site.
Now the PLR Articles is a page that comes with a WARNING – These lessons contain Outdated Information. Do not use PLR articles anymore. Also, there is a new article by Gina Broom (admin) that is presenting an alternative route for those that fear writing content. This is somewhat a pattern that you must have in mind when writing content and I found it pretty useful for those that are new and afraid.
———————————————————————————————————————————-
At my disappointment inside a new article that is included in the same training, there was a paragraph talking about PLR Articles without the previous warning. They might have missed it. Additionally, I think the section of the Duplicate Content should only focus on how to provide unique content (even out-sourced) and not to try to change something already existed. It can cause a mess
And why to bother changing an already existing content when it won't result in differentiation and therefore good rankings while at the same exact "Time" I can try to make something NEW.
The training about the Headlines though is awesome, you might wanna check it out. The sales letter training does a pretty good job and the email start-up tips are very effective. Moreover, there is a video recording lesson in which Mark Ling presents live examples pointing out to software and material we gonna need in our way to video marketing and further he displays a video he recorded interviewing a magician talking about his background and techniques.
I loved that very friendly event, Mark illustrated all of the above tips he mentioned throughout the post. The next training about Conversion Improvement is one of the best in the content creation category. This one includes "How to Target a High Demand Market", how to choose appropriate affiliate programs, high buyer intent keywords for high search volumes, how to eliminate any website flaws, how to decrease page load times, post content that sells, wise position of links throughout your content and introduction to email marketing.
Lessons in Site Building
This category is a big one and includes extended lessons on how to build a site from scratch. Using programs like Artisteer, Adobe Dreamweaver, KompoZer, Microsoft Expression Web, XSitePro or using Hand Coding with HTML and CSS, how to upload your files into a server using FTP, how to find and register a domain name. In the "Anatomy Of A Web Page" sub-lesson there are presented basic HTML functions and orders that everybody should have a look.
There is another lesson on how to name files, how to store images, using fonts and structuring files into different locations. A lesson in web design troubleshooting – The "Anatomy Of A Web Page #2" deals with CSS, an introduction to the design language. Simplifying navigation with PHP is included is another sub-category and the "How to create a date script" is the next one. There is a lesson dedicated to sitemaps, both for visitors and the search engines.
The lesson about the site building mistakes you need to fix deals with problems such – weak content – metadata and markup – site load times – broken links – flash multimedia – mobile friendly optimization – the absence of basic pages. Also, there are lessons on URL canonicalization and the robots.txt function.
Let's make a new parenthesis here … Although some basic knowledge in HTML and CSS can help any website owner, building a site from scratch (even using software that Affilorama suggests) these days is like trying to build a house only with bare hands while there is machinery to be used. This can lead to premature frustration, disappointment and finally abandonment
….When I first created my own website, it took me only 2 minutes to complete the basic functions and to have it up and running on the server. I did it with the SiteRubix website builder inside Wealthy Affiliate…But Affilorama is not providing a website builder inside. There are 2 options, the first one is to make everything on your own and that process, if you are a beginner, will take more than a month, not to mention the mistakes and errors that will occur one way or another. The second option is to buy the Affilotheme which includes everything inside.
I hope that Affilorama will include a free website builder even for one single website sub-domain in the future and so people can decide if the website business is what they're looking for. With such a builder you avoid all the coding from the beginning and you can use HTML and CSS coding in the future when and only it is necessary.
Marketing Ideas
Here comes an introduction to blogging. The benefits of using it on your website and what platforms are available. Affilorama suggests WordPress and I totally agree on that. There are instructions on how to set-up your WordPress blog on your host in the next lesson bus as I already stated earlier I would prefer a website builder inside Affilorama to get us rolling in minutes. There are suggestions on how to write a blog post, ways to monetize it, how to add a new theme to your WordPress blog, customization ideas with essential start-up plugins.
There is an extended email marketing category, one of the most important forms of marketing still in that industry. The solo ads and the newsletter section is a very powerful sub-lesson, digging a little deeper explaining some aspects with live examples. Suggestions and tips for successful email newsletters and strategies we can use in our campaigns.
The next category is the social media marketing. A very informative introduction to Facebook, how to build a business page, how to interact and engage with the audience and using Facebook ads. The next sub-section is all about Twitter, how to use it, build a line of followers, tips, and strategies to get the maximum out of this social medium.
The next lesson is dedicated to Google Plus and how important is to get better rankings in Google. Another interesting lesson comes next talking about an alternative route for making money online, this time without a website, using, for example, the HubPages to make a Hub. The next 4 lessons are very crafty introducing us to Web 2.0 and the social bookmarking sites/networks with tips and guidelines on how to use them as an extension to bring traffic to our blogs.
Came to my pleasant surprise that the lesson on Web 2.0 back-linking method was removed as outdated.Instead, there is newly added content examining the building of quality links that search engines will love. It's a nice update removing all the bad back-linking strategies Affilorama was used to propose. Now there are displayed useful techniques through social mediums to improve our presence and authority and gain organic "natural" links that not only follow search engines guidelines and offer a better user experience.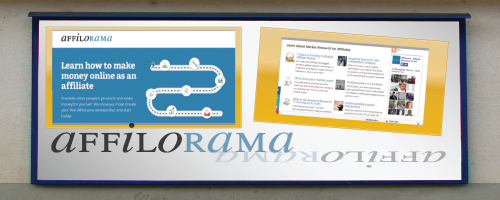 The next Inbound Marketing topic is a great resource dealing with video marketing, image distribution, pod-casting and how to incorporate them all together. The upcoming pdf is a background of Mark's life and career, how he started and the purpose of this document is to encourage people with Low – Self – Belief to try in taking a leap of faith. I found it extremely important. Everybody needs support and inspiration and Mark from Affilorama knows how to support you.
Lessons in SEO and PPC
I was not left satisfied with the SEO lessons, a lot of articles still use information about back-links and the total outlook for this section seems confusing. I hope that Affilorama will change the out-dated posts and refresh with new content that can better represent the situation.
But the extended PPC training is awesome and it contains valuable information and covers many areas. And I was not expecting a PPC (Pay-Per-Click) training in the free membership.
There is also a small training mini-course dedicated to outsourcing work for your website which is structured nicely.
Lessons Last Section – GURU views
This particular section presents some marketing "Gurus" share their opinion on specific topics. I suggest though that if you are a beginner to by-pass that lessons as it can cause you some confusion. Every marketer uses his own techniques and there is the Affilorama training as well and all of that information cannot be digested so easily. I suggest visiting that training at a later time.
Looking for Ways to Start an Online Business? Here's a List of the Best Solutions
Final Opinion – Conclusion
First of all, I feel very happy that I reviewed yet another totally legit marketing opportunity for all of you such as the Affilorama Network created by Mark Ling.
…The Affilorama Free Training Lessons Size is Enormous. I cannot believe that I found so much information in a free marketing training membership. At Zero cost you learn how to build a marketing website business from scratch, how to operate it and get it ranked in the search engines and use techniques to make it found on the web generally.
But How does Affilorama Work.?…is there Help and Support Inside the Forum.?
Affilorama is an active community but in my opinion is moving a little slow and definitely, it is not an interactive one. There is no Live Chat function, only you can send direct messages to other members personally but they might not get back as it happens in all social mediums. The forum only contains posts and questions about subjects already discussed though you can create a question post if you need to.
But I would expect a live interaction section to meet other marketers so that I can discuss with them and learn everything I need to know. In this affiliate marketing field when everything moves so fast immediate help is a must for every marketer, especially the new ones.
That being said, the support that Affilorama offers is limited, and it is not a quick service. When you get started in internet marketing you need help because you absorb a lot of new information. But I got responded to a question email I have sent to an admin within 7 days.
Also, there are some flaws. Although Affilorama updated a lot of out-dated content still there is work to be made. In addition, some areas are a little confusing. I would prefer a website builder like SiteRubix inside to get me started with my website in minutes and also I would need a keyword research tool even for limited extractions just to recognize the signs of the training live on the action. But those necessary tools are only offered via the paid products.
On the other hand, the Free Membership of Affilorama offers information in topics and areas that I would not expect as mostly are useful for advanced marketers with some kind of experience. And that is something not easily found on the internet. Affilorama Free has HUGE information, both in visual (videos) and in written material (posts).
But do you finally recommend Affilorama.?
Yes, I do recommend Affilorama to anyone. One of the best affiliate marketing programs in the industry. It is Free to try, the content size is extra large but there are some things to be considered and you can not build live a website unless you know how to code it. In overall, Affilorama stands out of the competition and can only be compared to other giants like Wealthy Affiliate. At this point is inevitable a future post comparison between these 2 affiliate networks. Affilorama Premium is one of my next stops.
I am very satisfied with the recent changes inside Affilorama and I am expecting more from the premium membership as I already discussed in the introduction of this post 
Wait, There's More…My Huge Bonuses $11,000+
But before I announce the bonuses I need to introduce myself very briefly.
I do marketing since December 2014. I live, breathe, and dream marketing. This is what I do for a living. I help companies sell more of their products, both locally and globally. I offer marketing and advertising services to clients directly and as a marketing publisher indirectly through this website.
My approach and marketing methods are very similar to those Affilorama teaches. You'll learn how to make money with affiliate marketing, and this is my specialty.
In order to speed up your results, to help you get the most out of Affilorama's training, to answer all your questions, and to support you for a lifetime on a daily basis, I am offering this package of marketing bonuses you should check immediately.
So, here are my bonuses…
If you join Affilorama you will get access to me personally to help you increase your online presence and authority and maximize your earning potential. Additionally, you'll be able to walk through Affilorama's program with confidence, having someone next to you ready to answer all your questions and show you the next step and the next step and the next one.
And you'll get to know my marketing methods and how I use various platforms and websites, and how I pay for traffic, when I do it, and all this cool stuff.
This is like combining 2 marketing programs together. Imagine the impact you'll have in a few short months.
Look, every year I help dozens of people create their own online businesses either with my free Digital Business Roadmap training or through private sessions and workshops. I can do the same for you.
If you want to go faster, if you don't want to struggle with trial and error, if you want that something extra that guarantees results, then look no further than these bonuses.
So here we are:
Bonus #1
1-Year Weekly Video-Call Intensive Private Training Sessions on Skype (30-minutes each) 50+ Sessions (real value $10,000 – FREE for you)
Business & Marketing Consulting, Coaching, and Feedback
What you'll get for free:
Unlimited Sessions of Intensive Private Training (each session 30-minutes long, every week)
Feedback on your work and progress with the Affilorama's training
Niche selection, goal setting, future plan
Marketing training (competition, customer avatars, unique value proposition, becoming a publisher, SEO, keyword research, inbound methodology, content creation & distribution, social media, blogging, advertising, email marketing, and more)
Business consulting (online business basics, model components, costs, prices, assumptions, competition analysis, analogs, antilogs, leaps of faith)
Bonus #2
Unlimited email access and support for as long as you need it (lifetime) (real value invaluable – FREE for you)
Bonus #3
Email Vault (swipe files, campaigns, headlines that get clicks) (real value $500 – FREE for you)
For the last 2 years, I carefully collected, compiled, and tested thousands of email campaigns, promotions, and headlines
Now, I am giving you the best of the best to use them in your business and build a loyal fanbase.
Bonus #4
Affiliate Marketing Blueprint (becoming a successful marketing publisher and letting others promote you) (real value $300 – FREE for you)
Since 2015, WMS as a marketing publisher helped hundreds of companies sell more of their products and services
By becoming a publisher you tap into a multi-billion industry without having to own products
By running your own affiliate program you will be able to scale your business exponentially. All it takes is to provide quality services and let others know about it.
Bonus #5
This bonus will be announced privately with those of you that will show interest in this course.
And this is the bonus that will make the "Big" difference.
Free DBR Marketing Training

Additionally, you can become a Free WMS member and take the Digital Business Roadmap training that will help you understand how online business works.
Here's a quick overview of what's included in my training:
Online business basics, what is a niche, choosing a profitable niche market based on your interests
Niche market breakdown examples, keyword research (strategies, tips, tools I use)
Picking up a domain name, choosing web hosting services, website builders/platforms
Connecting effectively with people, researching the competition, ways to gain online traffic
Digital content production, ways to gain online traffic, SEO (search engine optimization)
Affiliate marketing
Selling advertising space, sponsored posts, native advertising, email marketing, video marketing, social media marketing
eCommerce stores, memberships, online courses, training, consulting
Multiple alternative ways to make money with or without a website
and more…
That's it, another review has finished here, on Web Market Support. I am waiting for your comments and thoughts. Till next time.

Some of the links on this page are "affiliate links". This means if you click on the link and purchase a product, membership, or service, I may receive an affiliate commission at 

no extra cost to you

. Regardless, I only recommend products and services I use personally or I believe will add value to my readers. I am disclosing this in accordance with the Federal Trade Commission's: Guides Concerning the Use of Endorsements and Testimonials in Advertising. For more information, I refer you to the 

Disclaimer page