What is the best way to introduce your work to the public properly as a marketer or small business owner with little or no design skills? How to present complex information clearly?
Enter presentations.
Though some people consider it to be a relic of the past, such online projects are still in use, even by the world's leading companies. The demand for presentations is huge.
Presentations work for any industry and marketing campaign. Real estate, clothing, transportation, education, you name it.
Marketers, entrepreneurs, speakers, authors, practitioners, store owners, eCommerce brands, coaches, consultants, students, all need presentations to be able to demonstrate their competence.
But how do you proceed if you have no experience at all?
In this case, ready-made presentation templates will definitely help you with this task. Why do you need to choose templates? How to use them? And what products are the best? Let's get to the bottom of it.
5 Free Presentation Templates
For Marketers & Small Business Owners
Why Use Pre-made Presentation Templates?
If this is not your first time creating presentations, then your initial steps will probably be to open the program, go to the design tab, and select the standard options. This is the way almost every regular user has resorted to. There are many benefits to ready-to-use templates. The main are:
Time savings. Templates are essentially pre-made presentations that you only need to edit and customize. If you are creating a project from scratch, you need to consider every detail. This includes effects, animations, a selection of infographics, diagrams, etc. For the marketer, it is important to use as many graphics as possible in combination with text and other visual elements to make a strong case.
Saving money. If you are going to create a unique design for the presentation yourself, then you may need a lot of money, because you will be buying graphic elements separately. These will be icons, backgrounds, etc. Opt for a ready-made solution that is much more profitable. Plus, you can find free templates in some cases of the same quality with paid alternatives. 
Unique design. This is the most important aspect that everyone is chasing in the hope of making a unique project. You can do this easily with ready-made offerings. Because pre-made presentation templates imply that you are looking for a unique and stylish solution. Developers are mostly focused on this. So, you can be sure that your project will be unique and stand out among other marketers and small business owners.
Stylish infographics. Charts, blocks, tables, and diagrams play an important role in marketing presentations. Standard sets for this purpose are quite boring, so together with templates, you get packages of impressive infographics that can be easily edited and filled with your own information.
Template #1 Service – Free Worship Powerpoint Background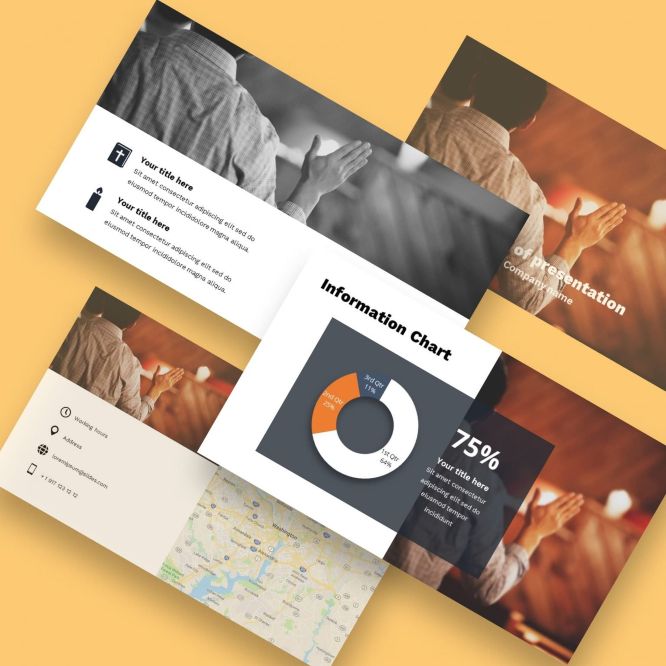 This is one of the most popular free templates that are great for a variety of business purposes. Despite the fact that the theme of the product seems to be specific, the product is fully adaptable and customizable for various goals.
The nice visual design will help you convey the corporate style of the company. You can easily work with the template in different versions of PowerPoint. Another advantage is fully customizable components. You are free to interact with text, pictures, color schemes, blocks, and infographics.
Speaking of the latter, the slides include elegant charts and different kinds of graphics that will help you properly present the necessary information. One more benefit is the ability to add your own photos.
Template #2 Free Animated Realistic Infographic Presentations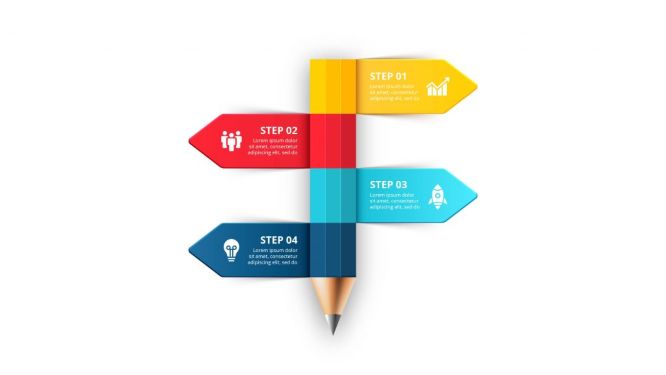 Any presentation should not only be rich in information, but it should also look eye-catching. For that, you may use visual effects, animations, and choose to work with this free PowerPoint template.
It has a unique design along with many possibilities for editing. You can customize the product content using Microsoft PowerPoint, Adobe Illustrator, or Adobe Photoshop. There are a variety of graphs, charts, and diagrams. Definitely, you will be able to present any complex information correctly.
Template #3 Free Strategy Infographic Templates
This free template includes dozens of ready-made slides filled with high-quality graphics. You definitely cannot design such diagrams and charts by yourself.
So, if you want to save time, you can safely download this product. It is perfectly configurable and allows you to change any components. Plus, all the graphics have high resolution. This Free Strategy Infographic is also famous for its adaptability and will look great on different devices. 
Template #4 Business Presentation Templates – Free Powerpoint Designs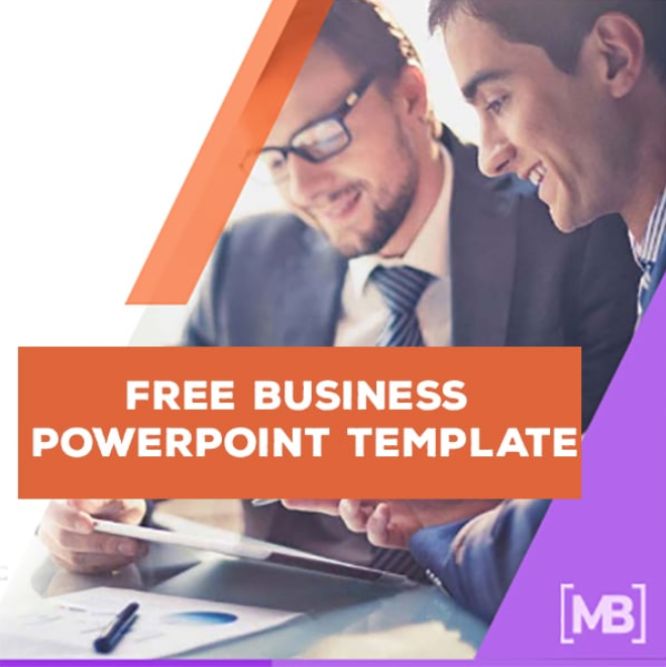 Here is another unique offer that you can use absolutely for free. The number of available ready-made slides is impressive.
You can edit each one using the easy-to-use PowerPoint program. This template will help you to structure your information and present the ideas, proposals, and goals interestingly. The embedded images have high quality. Besides, you can count on the full adaptability of the presentation to different devices.
Template #5 Free Infographic Template
This is a unique solution that will help to present boring information interestingly and creatively. Sets of infographics come in the following formats: EPS, AI, PSD, JPG, PPT, PPTX, and others.
A huge plus is that you can use these templates not only for presentations. You are also free to work with them and add schemes to a website or online property. It will increase the readability of the resource and allow the audience to better understand you.
200+
Business & Marketing Tools Collection
Work management, tracking, organizing, payments, accounting, Google, keyword, market, and competition research, SEO, analytics, and related, marketing & advertising, web development, website monitoring, domains & website hosting, coding, and related, design & multimedia, marketplaces, entrepreneurial communities, hiring & outsourcing.

Just click on the buttons to download the desired template or all of them.
Once you visited the MasterBundles website, you'll find that the price is set to zero. Click the download button on this page.
Click the free download option now and copy the code on this popup message to attribute the producer. It will take you to the order page. Click on "continue to payment".
Then enter your email address and we will send you the link to download the files automatically on your device.
That's it.
A marketing presentation always requires effort to structure the information and provide it correctly. To make it easier for you, it is recommended to use ready-made presentation templates. These are the tools that will make you stand out from others and show the world how professional you are.
Liza Koenhoven
MasterBundles' CMO and copywriter
Liza is MasterBundles' CMO and copywriter, passionate about coffee, writing, and Depeche Mode. She likes it when a post on a blog right on the day of release gets more than 1000 views, finds interesting themes for publication, and spends hours analyzing the settings of remarketing. Does not like restrictions on advertising budgets. You can find her on Facebook.
Multimedia
Multimedia resources(AZ directory - images, graphics & design, audio & music, video, video marketing, animation, themes, plugins, code, apps, tools, education, jobs, buy & sell, communities, freebies)