More awesome news today!
There is a brand new live event I believe you should not miss. By any means.
It's 3-day long and it aims to help
Newbies and business opportunity seekers
Marketers
Networking marketers (MLM)
SEO experts
Lead generation experts
Software buyersAgencies
Entrepreneurs
Influencers
Speakers
Authors
Small businesses
Real estate agents & investors
Side hustlers
build their own online businesses from the comfort of their home.
The hosts, Chad Nicely and Daven Michaels promise you that you're going to build an online business on this free, 3-day, live, experiential masterclass.
You're going to be learning and doing at the same time.
3-Day Business Masterclass
Chad Nicely & Daven Michaels
Replays/Lead Conversion Squared
His main slogan is: I fix influencers.
His entrepreneurial journey started back in 1998 and has been very adventurous, to say the least.
He founded and run stores and local businesses in various industries, like restaurants, coffee shops, and gift shops and he also took his businesses online at a time where internet was not a "thing" yet.
Since then he has coached thousands of students all around the world. He continues to launch innovative solutions that allow his students to live a life created by their design.

He is the President and Visionary behind "EverSuite". This is an all inclusive software that helps influencers, thought-leaders and business experts market their programs and their services.
Chad is also an International speaker, a product launch expert and very established in the Las Vegas area.  

Daven Michaels' Background
New York Times bestselling author, 30-year veteran entrepreneur, and CEO of 123Employee, the premiere outsourcing centre in the Philippines. He has 3 centers and over 500 employees. He's also CEO of the Virtual Entrepreneurs' Association, a producer at LMG productions, and CFO at MHM Recordings.
He describes himself as a business success builder, marketing maestro, outsourcing & virtual team-building expert, and a global lifestyle entrepreneur.
The membership site welcomes people and is helping them prepare for the mega event that takes place in just a few days.
It's about getting to know the founders, Daven and Chad, their business philosophy, and motivate them to take action and do some work instead of waiting for the event to take place.
This is a brilliant idea that I believe a lot of leaders, marketers, influencers, and online entrepreneurs are going to deploy for their own launches and programs.
The membership area is all about getting you set up for the event, and warming you up with a series of introductory videos.
How to succeed with this membership – a welcoming video to get you in the right direction.
Bonus vacation for you – 

Upon graduation from the 3 Day Business Masterclass, you will receive a 4-day, 3 night hotel stay, valued at $800 – $1,000.

Load your profile picture – your first goal so that Chad and Daven get to know who you are
Let's get you connected – join the private community
Help us…help you – take 2 minutes to answer this simple little survey so they can tailor the masterclass to your exact needs
Stay up to date – they want to make sure you are up to date on everything that is happening
Time for you to win big time – an unexpected surprise. They're going to reward you for sharing this masterclass with your friends.
How does this bonus vacation work? 
If it looks too good to be true, it is, I don't blame you. But there is a reason behind this.
These top-tier hotels are not fully booked throughout the year. By giving away a number of rooms for free, they know that their visitors are going to spend money on their facilities. In the restaurants, the bars, stores, spas, massages, and other services.
Daven has closed a deal with another company he runs and when the hotels are not fully booked they are giving away for free this number of rooms through Daven's company. And Daven is sharing these rooms with his workshop attendees.
That's why you get to win a free vacation.
Cool!
Step #2 – The Warmup Sessions
What is your income goal? the only way to be laser-focused is to know exactly what you need to make and why. This is a 1hr and 22min video training
Setup your digital card – also known as the "Foot in the Door". A 

special gift to you for registering for the 3-day Business Masterclass. It's getting you connected to the SocialBunny network. 

Let's make you look like a million bucks – real people are going to find you. The first thing they are going to see is your profile. The "Million Dollar Impression" video training by Chad will help you get started the right way. I absolutely loved this part of the training. There are many photography secrets revealed.
The ONLY social media platform – LinkedIn is the only platform to reach high-quality clients. It's not like Facebook, YouTube, Twitter, or Pinterest. LinkedIn is made for business people. LinkedIn members have money and they are ready to spend it. Another killer video training
Create your LinkedIn – Chad and Daven used LinkedIn for years to generate thousands of leads and they teach people all over the world how to do the same. Chad shows you how to complete your profile with confidence and make it look very professional. Have in mind, your LinkedIn profile is not meant to be used as a resume. You are here to generate leads and do business, resume is for people that want to land a job. Chad really knows his stuff. Don't miss this video training.
Optimize your profile – image is everything. You need to look good. Real people are going to find you. Chad will show you how to use your profile to create a business that you can run from home, giving you the time, money and freedom a job isn't going to give you. Another brilliant video training.
Modeling the big boys – Chad underlines how important it is to find the most successful people in your niche or marketplace and emulate their actions. Chad shows us how he is using Tony Robbins profile page to interact with other people and so much more. Another video training you should not miss by any means.
What is your SSI score? did you know that LinkedIn actually scores you? It's called SSI and it's your report card with LinkedIn. they promise you that this score is going to raise during the masterclass. My LinkedIn SSI results: top 50% industry SSi rank, top 87% network SSI rank, 26% social selling index. 
Download the app – an app to allow you to make connections on the fly. It's the LinkedIn app. I was already using LinkedIn on my phone. If you aren't using it, complete this step right now.
Replays/Lead Conversion Squared
Workshop Day 1 – Attracting Your First Client/Laying the Foundation
Daven explains how this event came along. It was all due to the covid-19 pandemic and its consequences to his current business, his clients' businesses, and also his partner's Chad business.
He was forced to innovate, so did his clients, and his partner, just like we all did.
And as I already analyzed in our free training "Entrepreneurial Success", entrepreneurs don't just adapt to the environment, they create a new environment to facilitate their business and serve their clients.
Their mission is to help at least 10,000 entrepreneurs build an online business in just 3 days. They're going to provide all the tools, the knowledge, and they are going to take these entrepreneurs by the hand and experiment with them online through these workshops.
The workshops aim to help people generate leads, generate traffic, attract their first client, and have a turn-key business by the end of the 3rd day.
Chad explains how excited he is having people from all over the world joining the live masterclass and because of the engagement with people through the comments Chad and Daven are committed to giving everything they can to us.
They also organized a live giveaway to rise up the heat. A $100 paypal gift. People had to visit a certain URL, registertowin.me and then Chad and Daven would choose one winner randomly.
Cool stuff!
You will have attracted your first client online
You will know exactly how to engage an endless supply of high-quality clients, using the "Foot in the Door" strategy
You will know how to scale your business as big as you want to, if you just have discipline and consistency every single day
Chad and Daven will open up their business to show you how they are engaging with customers and prospects. You're going to do the same
They will show you how this process works
You're going to learn the key elements that your profile needs to have. Your profile is your first impression, it needs to be 'on-point'.
A simple formula to help you create your profile hook so people will be drawn to your business. Then they will critique your hooks
Figure out what your "connection magnet" needs to be. They will critique it for you
Connect with prospects today. 
A professional platform for business owners, decision-makers, people with the budgets
Unlike Facebook, Twitter, YouTube, or other social platforms that are not business-orients, LinkedIn is designed for people that do business
You can easily search through the platform's database to track people in your niche and industry
You can use add-ons 
There are 3 levels where you can connect with other people 
How LinkedIn Works – 3 Levels
People you're directly connected to – you can message them directly
People who are connected to your 1st-degree connections – you can contact them only through an introduction
People who are connected to your 2nd-degree connections – you can contact them only through an introduction
An introduction to the "Foot in the Door" strategy. This is actually the secret weapon that will open all your doors.
The difference between having a traditional business card and a digital one is that the digital is more personal. It displays your photo, and when people see your face they far more likely interested in doing business with you. A traditional card does not have your face picture on. It's just design and data.
The digital business card is social and it increases the chances of you doing business with other people.
And if you followed the instructions inside the members' area, where Chad analyzed how you should be taking photos, then your chances of connecting with others increase a lot more.
A Simple 3-Step Process – 25 Connections a Day
Connect
Engage "Foot in the Door"
Turn prospect into paying client
Connect with 25 people every day, or have someone else do it for you.
How this strategy came about
Chad explains that they are not the only ones using a strategy like this one. People were connecting on LinkedIn for years now. They were making new connections and then they were reaching out to their new followers with a personal message or something like that.
However, Chad and Daven introduced the "foot in the door" strategy and then they perfected it.
And that happened by accident.
Chad has a student who is with him for years, and one day Chad receives a message on Skype from Mark.
"I'm back now, I pulled about 50 leads from LinkedIn, and I got about 15  of them to make a digital card. They are also going to leave me a recommendation on LinkedIn and they want to leave me a review on my card page. I just need to figure out how to work around that.

I'm just playing around doing this manually. If I use my software I could probably get 100 or 200 sign-ups a day and 30 cards created a day. Then pull them into a campaign that upgrades into a webinar. Fish in a Barrel".
This is when Chad realized that he needed to tweak his system with the digital business cards.
And so this strategy was born, out of a real need.
Now they discuss this LinkedIn SSI score. I already analyzed it in the previous section, the warmup sessions of the membership site.
And when your SSI score increases, the platform gives you more and more exposure.
When people ask Chad what he does he answers with a statement like this:
"I help businesses follow-up flawlessly so they increase sales, eliminate missed opportunities, and maximize ROI and profit."
Chad presents 3 benefits/results for his clients.
They suggest that you display your statement on your LinkedIn profile at the top so that everyone's visiting your page, will instantly know what you're doing. 
Next, the workshop attendees have to complete this task for themselves and they will critique their profile hooks on the spot.
Key factors:
Start with a phrase like I help + who do you help… I help doctors, I help lawyers, I help local stores…
Then present what happens when you help your clients, benefits and results.
Present 3 benefits and results, not less, no more.
Do not use business jargon like I help X make 6 figures or make money, or $100,000 a month.
Use simple words so that everyone understands you.
Be specific on who you help, don't use phrases like I help ordinary people. this way you are not targeting a niche, instead, you're targeting the whole world. In marketing, we need to be specific.
You reach out to people that don't know yet with a message. 
Take your profile hook and instead of saying I help, you're going to replace it with the person's name.
Example: Hey David, I work with entrepreneurs like you and I help them increase their sales and revenue. 
Here, present only 2 benefits/results, not 3. When you use 3 in a personal message, it's looking salesy, when you use 2 it looks natural, gentle, it makes sense.
Then you add a statement like this: does it make sense to connect?
Replays/Lead Conversion Squared
Workshop Day 2 – Foot in the Door Strategy
It's all about attracting clients
Setting up your digital business card. This is the foot in the door.
How to respond to your prospects that come in from your connection requests. There are 2 options available
How to maneuver inside the system.
Connect with potential clients
Contests and giveaways
They request connection
We request connection
We prefer the 1st strategy, people coming to us, so we'll be able to say, oh that's great, I have a gift for you. 
Example strategy #1: Frank and Mark. Mark is Chad's student and he is getting approached by Frank.
Frank: Hello Mark. I'd like to stay in touch through my professional marketing network on LinkedIn. Let's connect!
Mark: Sounds good my friend. Out of appreciation for a new quality contact, I'm giving all my friends here on LinkedIn, a copy of my best digital marketing business card software for free. Do you want it?
Frank: Sure
Example strategy #2: Mark and Derek. Mark is Chad's student and he is approaching Derek.
Mark: Hey Derek, good to connect with you. If you ever want to talk solar I'm here. I have developed a lot of cool toys in that industry you might find useful
Derek: "Cool toys" that sounds pretty awesome. What do you have?
Mark: Over the last 4 years we have been developing a cloud based software that delivers awesome automation to the lead gen marketing endeavor that many contractors need. It started out as a simple survey and appointment pltform and soon grew into about 100 other features. Now I believe is the best lead gen platform in the world, and over a motion in developing has gone intuit and all its integrations. One of the features is a digital business card, you can check that out here. I also created this portal for you to get one for free. (link). LinkedIn is crazy about breaking links so you might have to copy and paste it. 
Example strategy #2: Daven on LinkedIn. Daven wants to connect with 25 people daily on this platform. He searches for people and filters his results to get closer to people in his industry. 
Then, he is sending a connection request message that goes like this:
Hey X, I help business owners outsource their busy stuff so they can make more money and take their time back. Does it make sense to connect?
Then, probably most of the people that got approached by Daven would respond by pitching their service or product. 
And Daven would respond by saying, that's great. I would love to hear more about your service and by the way, I'm testing out a brand new digital business card, would you like to be a part of the BETA program and test it out on your own?
The attendees had to use LinkedIn to make some connection requests to see how this goes. 
Key insights:
Don't try to connect with hundreds of people daily and LinkedIn might terminate your account. Daven suggests that magic number "25" that will keep you well under the radar. 
Also, don't use software to send automated messages, it's against LinkedIn's terms and policy. 
Method #1: we are contacting them.
Example: Hey Josh, I'm working on a new prospecting strategy with a cool new business card that's getting a massive response. Would you like to be a part of the beta program? I can give you your own card to use.
Then, the event attendees had to create a magnet response on their own, and Chad with Daven would critique those responses.
Key insights:
Don't try to sell anything. Don't sell your business card software. You want to give it away for free. Don't use the word "free". 
Method #2: they contact us.
Example: Hey Chad, it's great to connect with you. We are looking for small business owners that need help with their strategy and planning. You can click on the link below to schedule a call with me. Josh
Our response: Sounds great Josh, I would definitely love to hear more about how that would work for me. I also wanted to mention…I'm working on a new prospecting strategy with a cool new business card that's getting a massive response. Would you like to be a part of the BETA program? I can give you your own card to use.
When they want the card – this is where that magic happens
You reached a point where they said they want to test this new digital business card.
Your response: 
Great, if I can get your email I can get you all set up…
They would probably respond with an answer like this…Sure josh@gmail.com.
Now, you don't want to give the card right away to them, because this way they won't be able to see the value in it.
You should respond with an answer like this:
Perfect, give me a little bit Josh and I'll get this all set up for you.
Later, after 3 hours, is this:
Hey Josh, here is a link to your card. I'd love to hop on a call and help you set this up! (link)…
PS Would love it if you could leave me a review or testimonial here…
This is what happened so far and it makes absolute sense:
They send you a message to connect on LinkedIn. You said that's great and that you have a gift for them. They said they would take your gift. You come back and you say here's your gift. And I will help you with it. And now they will be thinking…what is the damn catch here?
And there's no catch at all.
And you can even help them even more.
You might say to them I have some ideas about how you can make your profile picture look better on LinkedIn.
And probably they will leave a review or testimonial on your LinkedIn profile as well. And these reviews will help you get more attention and earn credibility on this platform.
And remember, this is all organic traffic, you still don't have to pay a penny for LinkedIn ads.
Keep working on your profile: You should now have a really good idea of what your profile needs to contain. It's very important. Most people won't take the time to make sure it's perfect. They are losing out so much money…but not you.
Perfect your business card: go through the bonus presentation and make sure your business card looks like a million bucks. This is your first, and in many cases the most important impression you have for your future clients.
Replays/Lead Conversion Squared
Workshop Day 3 – Making Profits Online
The biggest secret to closing your prospects…without selling a thing
The "Hook, Line, and Sinker" close that you will be using with all your prospects
How to turn your prospects into paying clients.
The most lethal 'client-attracting strategy' ever created
Final reviews and celebration
The concept of having a digital business card
You meet somebody and you talk a little bit and probably at the end of the conversation, they are going to ask you, do you have a card?
You say, no I don't have one. But do you have a phone?
They are going to say, yes I have a phone.
You say…take out your phone, go to this URL, and then your card pops up, you say click this button right here, and this is the schedule button to arrange an appointment on the spot. You say…OK, we are scheduled, we'll meet on Thursday, 3 pm.
What normally happens with traditional business cards is that when you go to an event, you pass out your business cards, you collect other people's cards, you get home, you put them on your desk, and then 3 months later, you drop all these cards to the bin. This is what the majority of people do. 
The digital card sets up an appointment for you right away. And appointments turn into money. 
The hosts asked the participants 3 questions to find out how much they have progressed with the previous days training:
How many connections do you have?
How many views do you have?
What is your SSI score?
Then they checked the participants' business cards to help them optimize them. This critique session proved very important as people got to learn which color combinations they should use for their buttons, if their photos were satisfactory, and other important elements to make their cards stand out from the crowd.
Lead Conversion System Pro
The system's dashboard shows you:
Leads generated
Scheduled appointments
Pending texts
Tasks due
Hot leads
All deals
Appointments
Activity
All tasks
You're also able to create:
Probably you've heard this buzz word – The money is in the list. Or in other words, the money is in the follow-up.
In this business, you need to follow up on leads flawlessly.
The average number of times a person needs to get in contact with a brand before they decide to purchase anything is 7. 
What this training covered so far
Setup your profile for attraction
Creating your profile hook
Writing your connection magnets
Finding the right prospects on LinkedIn
25 connections a day strategy
Set up your million dollar business card
Your own card giveaway system
2 strategies for responding on LinkedIn
When your new connections say they want the card
They will click a link to signup
They will be taken to your LEAD portal
They will set up their own card
You follow up, they become paying clients
Try to attend multiple events a week (once everything is open of course).
Hook, Line, and Sinker Close
What you'll accomplish:
You will sell the client without selling
You will come off like a confident boss
You will get a sales appointment
The prospect will chase you, not you chasing them
Chad reveals the story of how he and Daven were met. They were on an event talking and at some point, Daven asked Chad to share his business card.
Chad said. I'm sorry, Daven. I don't have a card. But do you have a phone?
Daven said, yes I do have a phone.
And then Daven not only was amazed by Chad's digital card but they scheduled an appointment on the spot. Daven left this event curious wondering what the hell just did happen.
It was something he never experienced before.
You don't need a hundred clients to be very profitable with this specific business model.
You can easily close recurring sales deals.
You don't need to have all the answers for your clients. But you do need to be there for them, every time they need you. You need to show up with the best of intentions and show them that you really care.
Put it all together and make it a real business
Now it's Daven's turn to reveal how his partnership with Chad became a reality.
You see not only Chad had something Daven did not have, but also Daven had something Chad did not have.
Daven runs a company called 123employee in the Philippines. His team of over 550 employees is trained to do marketing, social media, emails, follow up calls, all the busy stuff that business people like Chad don't want to do on their own. Why? because they want to focus on more important things in their business.
Daven had the staff Chad did not have. Chad had this lean generation system Daven did not have. 
You will need automated packages to offer to your clients.
Instant orders with the proper strategy:
The right lead source
Effective message templates
Tagging
Follow-up videos
Follow-up emails
Website
You don't have to provide all these services on your own, you can outsource these tasks to other brands or freelancers. You can pay them based on commissions or on a fixed rate.
Replays/Lead Conversion Squared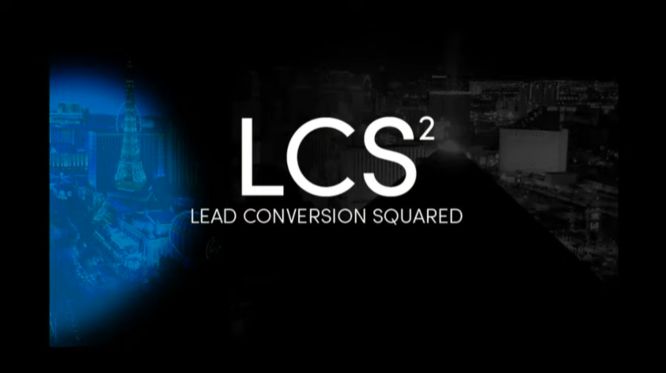 Lead Conversion Squared LCS2
A quick summary of what you need:
Private strategy sessions for paid members
The system that allows us to create the cards
The LCS software that lets you manage your leads
Your own software to resell services
Chad and Daven's process and strategies to use
Personal VA that's generating the leads for you
The lead digital card system (real value $1,997)
Digital Card Funnel:
Card creation
Instant card funnel
Card signup pages
Card order forms
Card management
Digital send out
There's no limit to the number of cards you can create and use for you and your clients.
The lead conversion system (real value $2,997)
The full system for one year:
Lead management
Survey creation
Applications
Email follow up
Tagging 
Forms
Sales pipelines
All future updates included
With this system you can:
Create surveys and applications
Schedule appointments
Create LinkedIn campaigns
Create online forms using a 3rd party system like WordPress
Tag people with multiple options
Use a sales pipeline
Use a contact database
Use email follow up campaigns
Create landing pages
LCS Agency License  (real value $4,997)
This allows you to sell marketing services:
All branded to you or your company
You place on your own domain
You add clients to your account
You set your own prices
You sell packages at your discretion
It's your own marketing business
Live Fast Start Dojo Training (real value $997)
Fast start set up process with Chad & Daven
Walkthrough your card prospector system
Walkthrough of your agency program
Set up all your marketing materials
Training to get you up and running quickly
Further training from the masterclass
Lead Generating Virtual Assistant (real value priceless)
A dedicated assistant to ease up your schedule and take of busy stuff so you can focus on growth
500 LinkedIn connection requests made on your behalf
The assistant is trained and ready to go
They know where to find your leads
They will handle the messaging for you
Set up all your marketing materials
Nothing for you to do 
Bonus #1: Custom Branded Site
Set it up so that you're able to advertise your new agency
Website build on the best technology
All calls to action are in place
Hosted on your own domain
You own this site 100%
Nothing for you to do!
Bonus #2: Follow Up Campaigns
Everything is set up instantly so you are ready to go
High-converting follow up messages
Linked to your offer page
All your tagging and campaigns set up
99% of the work has been done for you
Completely automated hands off
Bonus #3: 7-Day LCS Masterclass
You meet at 8 am PST Monday-Sunday. They will teach you everything you need to know about the LCS2 system. You're going to be an expert using this system in just one week.
As a result, you'll be able to teach other people how to use this system so you can save yourself time for other things.
The lead conversion system

The LCS 5 agency license

3-day live – fast start dojo training

Lead generating virtual assistant

Bonus #1: Custom branded site

Bonus #2: Follow up campaigns

Bonus #3: 7 day LCS masterclass

The WMS Exclusive Bonuses
The lead conversion system

The LCS unlimited agency license

The card prospector

3-day live – fast start dojo training

Lead generating virtual assistant

Bonus #1: Custom branded site

Bonus #2: Follow up campaigns

Bonus #3: 7 day LCS masterclass

The WMS Exclusive Bonuses

 
The lead conversion system

The LCS 10 agency license

3-day live – fast start dojo training

Lead generating virtual assistant

Bonus #1: Custom branded site

Bonus #2: Follow up campaigns

Bonus #3: 7 day LCS masterclass

The WMS Exclusive Bonuses
ClickBank Guarantee
ClickBank will allow for the return or replacement of any product within 30 days from the date of purchase. 
I'm very satisfied with the Lead Conversion Squared membership. It's a training program dedicated to helping entrepreneurs and marketers succeed and find their way to high-paying clients.
From the very beginning, I realized that the owners, Chad and Daven, had created something special.
This launch was special and it was not a traditional launch where you are approached with email campaigns and then wait until the registration doors are open.
The membership site welcomed participants in the most innovative way.
Clearly, Chad & Daven care for their members and they had compiled a membership that goes above and beyond other marketing and business training programs.
There were set up helping videos and warm sessions to get everyone prepared for the 3-day live masterclass.
And what a masterclass:
The hosts were on fire, passionate, and charismatic. 
Although the live calls were pretty long, they managed to offer a unique experience for the attendees. 
Join me for this live 3-day event. You can't miss this huge opportunity, it's free.
*Update: On Wednesday, October 07, Daven & Chad are going live for the encore masterclass session. Don't miss this huge event to learn more about how you can build your own agency on the spot. Yes, it's an incredible Agency-In-a-Box opportunity.
Replays/Lead Conversion Squared
Wait, There's More…My Bonuses
Let me make sure you move forward, apply what you learn, help you with your marketing so you'll be able to create an agency without spending years of trial and error
But before I announce the bonuses I need to introduce myself very briefly.
I do marketing since December 2014. I live, breathe, and dream marketing. This is what I do for a living. I help companies sell more of their products, both locally and globally. I offer marketing and advertising services to clients directly and as a marketing publisher indirectly through this website.
My passions: marketing, advertising, sales, human psychology, personal development. I have a University Business Administration degree and I'm an entrepreneur since 1992.
I read like a maniac and produce content and campaigns for me and clients like crazy.
I am a huge fan of quality and I don't promote mediocre or incomplete programs.
So, here are my bonuses…
If you join in the LCS2 training program before the deadline you will get access to me personally to help you increase your online presence and authority and maximize your earning potential.
And you'll get to know my marketing methods and how I use various platforms and websites, and how I pay for traffic, when I do it, and all this cool stuff.
More importantly, have in mind that just because the Lead Conversion Program is exceptional and you have access to premium software and other bonuses, that does not mean you're going to be successful online just like that.

Building your own agency requires knowledge, discipline, and proper guidance.

It's not a piece of cake, but I am here to push you forward and eliminate your mistakes. I am here to show you how I run my agency. I won't hold nothing back from you.
The Whole Bonus#2 Package If You Join The Lead Conversion Squared Program
1-year Weekly Video-Call Intensive Private Training Sessions on Skype (1-hour each) (50+ sessions) (real value $priceless – FREE for you)
Exclusive private training, coaching, and feedback: Business, marketing & advertising, sales
What you'll get for free:
50 Sessions of Intensive Private Training (each session 1-hour, every week)

Feedback on your work and progress with the 3-day business masterclass membership

I'll help you with your marketing and I will teach you to do marketing yourself
We'll identify needs people have and we'll examine how you can build an info-product (beyond your book) to fulfill their needs  (this is not included in the 3-day business masterclass training)

We'll create a big picture of your future for you to fully understand the potential of doing business online 

(

this is not included in the 3-day business masterclass training

)
You'll understand what it takes to become a fully-equipped entrepreneur and how to stay motivated no matter what happens around you (this is not included in the 3-day business masterclass training)
Niche selection, goal setting, future plan if you don't run a business yet (

this is not included in the 3-day business masterclass training

)

Business coaching (entrepreneurial mindset, online business basics, running a website, business model components, analogs, antilogs, leaps of faith)

Marketing & advertising training (market research, keyword research, competition analysis, customer avatars, unique value proposition, emotional motivators, the customer purchase lifecycle, inbound methodology, content marketing, SEO, blogging, guest posting, native advertising, influencer outreach, relationships, lead generation, email marketing, local marketing, copywriting & persuasion, storytelling, outbound & guerilla tactics, advertising principles, press releases, paid advertising) and more (this is not included in the 3-day business masterclass training)
Sales strategies and tactics (cold calling principles, attitude, motivation, handling objections, setting appointments, follow-up, closing the deal, guerilla marketing) (this is not included in the 3-day business masterclass training)
Unlimited email access and support for as long as you need it (lifetime) (real value $500 – FREE for you)
I want to make sure you get results with the LCS2 training program
I want to make sure you understand how marketing works
I want to make sure you understand how businesses work
You may hit a wall at some point, and I'll be there to motivate, inspire, and guide you
Nothing is more important than You reaching your goals
Email Training & Vault (email marketing training, swipe files, campaigns, headlines that get clicks) (real value $500 – FREE for you)
Stay connected with people interested in your offers
Build trust and authority and nurture authentic relationships with your prospects
Turn prospects into loyal customers, turn loyal customers into promoters of your brand and gain genuine referrals
Retain existing customers
PLUS 
Get access to the vault (for the last 2 years, I carefully collected, compiled, and tested thousands of email campaigns, promotions, and headlines)
Now, I am giving you the best of the best to use them in your business and build a loyal fanbase.
Affiliate Marketing Blueprint (becoming a successful marketing publisher and letting others promote you) (real value $297 – FREE for you)
Since 2015, WMS as a marketing publisher helped hundreds of companies sell more of their products and services 
By becoming a publisher you tap into a multi-billion industry without having to own products
By running your own affiliate program you will be able to scale your business exponentially. All it takes is to provide quality services and let others know about it.
*Bonus #6 – Exclusive for the LCS2 Gold and Platinum Membership
Paid Advertising Mastery I will help you target the right prospects on all the major search engines and networks [LIVE INTENSIVE 1-ON-1 VIDEO-CALL TRAINING] (real value $2,000 – FREE for you)
Paying for traffic is a lucrative strategy but involves high-risk
I will make sure you're running ads that perform well and convert
Google Ads training
Bing Ads training
Facebook ads training
Twitter ads training
LinkedIn ads training
Pinterest ads training
*Bonus #9 – Exclusive for the LCS2 Platinum Membership
A video trailer to explode your business (real value $have not priced them yet)
I'm ready to invest hundreds of hours of my personal time just to help you but…if you stop working towards your goals, I will pause too
To Get Your Bonuses Complete The Form On The Bonuses Page
That's it, another review has finished, here on Web Market Support. I am waiting for your comments and thoughts. Till next time.
Tasos Perte Tzortzis
Marketing Consultant, Creator of the "7 Ideals" Methodology
Although doing traditional business offline since 1992, I fell in love with online marketing in late 2014 and have helped hundreds of brands sell more of their products and services. Founder of WebMarketSupport, Muvimag, SummerDream.
I enjoy reading, arts, science, chess, coffee, swimming, Audi, and playing with my kids.
Some of the links on this page are affiliate links. For more information, I refer you to the disclaimer page.