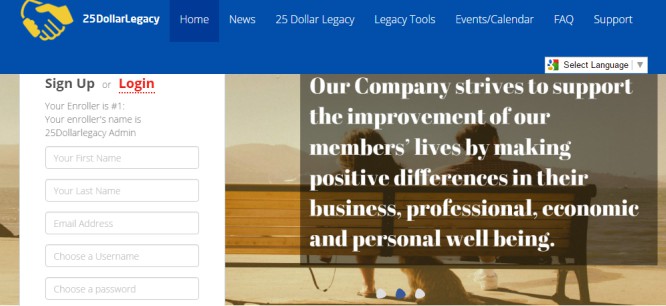 The program is very promising right from the beginning.A company that strives to support its members.They want to make positive differences in their business and personal well being.
Their mission is to become a leading provider of sustainable virtual tools globally.They can help you build your business with SEO (search engine optimisation) and social software.
The leadership combines over 30 years in network marketing strategies.They offer programs , coaching and tools that are economical , efficient and durable.
Let's dive deep….
Inside the 25 Dollar Legacy – Dashboard
I signed up and redirected to a dashboard area.
Getting started
Step 1- 4 – Training Videos
The first video is a walk through the back office operations and settings.Very helpful , explaining everything that you need to know.
It is a marketing dashboard where you can manage referrals , payments , withdrawals and you can create banners and splash pages.
Additionally you can promote other marketing products or services along with the 25 dollar legacy platform.
The next 3 videos analyse other areas of your dashboard , such as the sales pages and the premium area.
How to Make Money with the Legacy
San Warren Nix and Ramon Escalera have created a program to help the average person make sales and generate income.They are also responsible for the product named PDLPro , which helps marketers develop and expand any online or offline business.
Let's see how the 25 Dollar Legacy works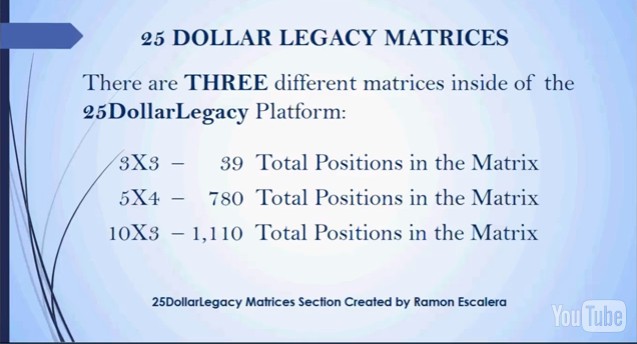 There are 3 forced – filled matrices in unison.Each one of them unlocked by you.
You need 2 referrals to get you in profit.The first referral pays you $15 residual.
Now you start building your personal team network and if you manage to help your referrals duplicate the process you are on the right path to success.
Matrices
The system is complicated but the video presentation is very helpful in analysing it.
The monthly subscription of the 3 X 3 matrix is $25 and paying $5 monthly for every member that falls into your structure (whether you or any of your referrals introduced them into the Legacy system).Personal referrals paying $10 / month.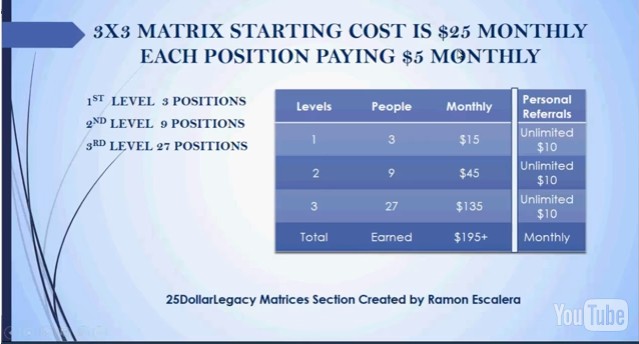 The 5 X 4 matrix costs $65 / month and paying $6 per structured member.Personal referrals paying $10 monthly.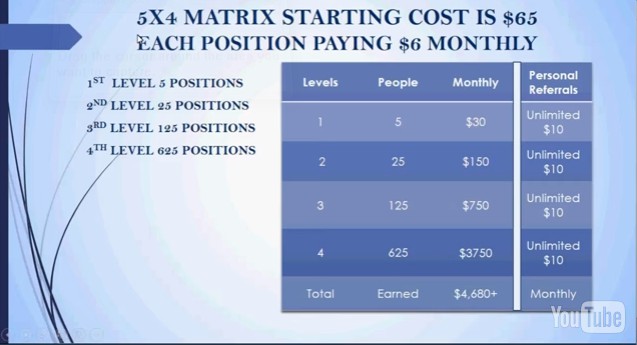 The 2nd structure explains the matching bonus and this happens when a personal referral manages to complete the matrix.You get an additional bonus of what you would normally get paid.The same happens when another referral manages to complete the matrix as well.
Of course this is where the Real Money come in.But that procedure won't happen overnight.
The 3rd matrix costs $100 / month but this time , you can not fund your account from the e-wallet or your pocket.The upgrade has to made from profits.You can unlock the 3rd matrix only when you have $100 in profit.
The Products
With the 1st Matrix comes the social auto-scheduler.You can post up to 4 main networks and that are Facebook , Twitter , Pinterest and LinkedIn.
The social scheduler comes in 2 different versions.The first is included in the $25 membership of the Legacy account.The 2nd one is a paid version and costs $8 / month and unlocks extra features.There is a 7 day trial for the upgraded version of the scheduler.
Moreover there is a free e-book (Social Explosion) where the Legacy team give some insights on the Social Media Platforms.How to use Facebook engaging with followers and using ads , Twitter and paid ads , YouTube , how to find popular content with the trending content research tool , use of hashtags , the Google news feature and more…
A bonus product called Social Pic Magic accompanies the membership in the 1st matrix level.A software to help you edit photos.
The 2nd matrix comes with a personal webinar room.You can use PowerPoint presentations , PDFs and other media.
The 3rd matrix unlocks the Personal Unlimited C-Panel . the PDLPro.You can build blogs , manage domains and hosting for your team and more…The number of domains you can host is unlimited.
There is also an auto-responder service plugged in , the Response Magic and that is available even for not upgraded members.This is a free service up to 100 subscribers.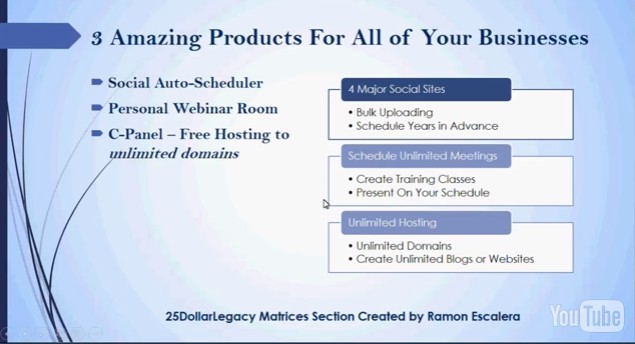 Owners – Domain
With the help of the whois database, I uncover the registration date for the domain 25dollarlegacy.com, 10 March 2016. The name Ramon Escalera appears as the registrant
Final Words – Conclusion
25 dollar legacy is an MLM structured business , and as with any business success is defined by a number of various factors.The most important thing is that you have to bring people into the system.You have to recruit all along the way in order to be profitable and to help your referrals build their teams so that you can take full advantage of the matrices.
I liked the overall atmosphere and the owners have put together training videos and other material to help you with your marketing efforts.
Although I am mostly looking for MLMs that sell high quality physical products this one seems better than many other similar systems in the digital products sphere.
Moreover the dashboard lets you promote any business you like in combination with the Legacy system.
But the products are available only to recruited affiliates. That makes the Legacy a Pyramid, solely dependent on affiliates. This type of business is unsustainable and most likely will collapse as recruitment can not last forever.
If you are new to the MLM world then I suggest that you join companies with real physical qualitative products. Companies that sell to retail customers. Not only to their members
Alternative Way of Making Money Online
There is a faster path to making money online than MLM. In fact, it's the fastest, most reliable and with the higher potential method.
The key to selling online without having to worry about recruiting is what we call mini niche affiliate websites. Long term potential, no risks, minimum startup costs, endless opportunities.
Top Places to Get Affiliate Marketing Help
That's it , another review has finished , here on Web Market Support.I am waiting for your comments and thoughts , especially if you have experience with the Legacy system.Till next time , your online partner.