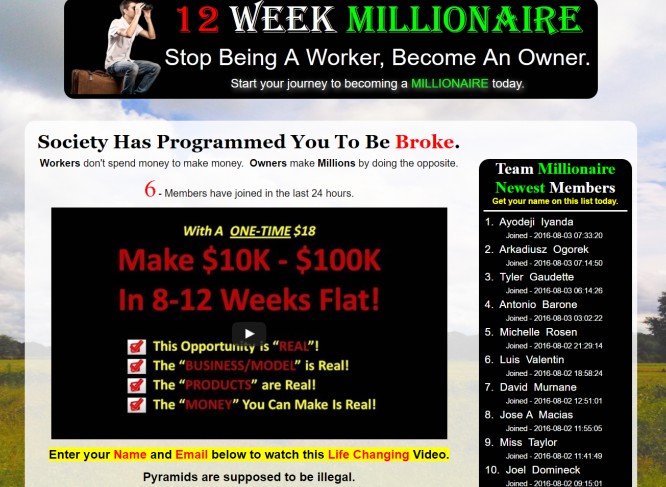 The headlines on that landing page were quite promising.Right from the beginning the owner highlights that this is not an MLM company.Additionally he notices down that the majority of all the companies in the world follow a very like MLM paying hierarchy.The CEO and the administrative members get paid way more than the hard workers who belong to the bottom of this pyramid.But that is not what you can expect from their company.
At that company everyone is getting paid according to their performance and sales.Moreover the very first video recorded webinar illustrates that with an one time fee of $18 you will be making $10K – $100K in 8-12 weeks.Well , $100K is not a million but let's move on to find out if this is possible.
Is 12 Week Millionaire any different that other online opportunities?
The webinar instructor uses as their main key the small fee of $18.He says that all other online opportunities cost a lot of money and you have to make big decisions before you proceed.So that makes this offer affordable for everyone.
Another great feature is the 100% check match.They mean that you match the income of every person you personally enroll.
No extra fees whatsoever.Once you enrolled you are in for lifetime.So nobody quits.
And there is no Income cap.There is no limit to the money you can actually make with this program.
What exactly is this 12 Week Millionaire Compnay?
That is not the actual name of that company.The 12 week millionaire proved to be a bridge to 4 corners alliance group.A known MLM company that I have not yet reviewed but I have read a few reviews about them in the past and I was not impressed.
So , if you sign to 4 corners alliance group through the 12 week millionaire landing page then the owner of the 12 week millionaire will be making commissions out of you.He will be your sponsor to 4 corners alliance.
But this review is about the 12 week millionaire website.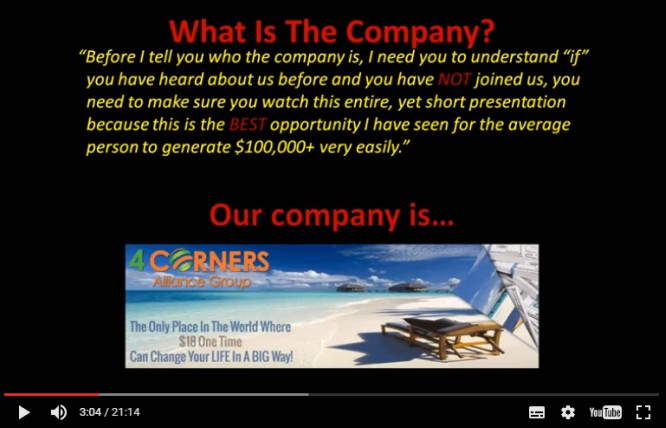 The webinar , if we can call that short video as webinar , is not pointing out to many details.The speaker says…"you don't have to refer anyone into the system to make money.."…and he continues .."but if you DO refer people you will be making more money and in a shorter period of time."…He is talking about the products of the company without naming them , he is refering to them as .."Products"..ghost products.But this is not what legitimate and proud companies do when they talk about their products.They just simply present the products in detail or in the case of no detailed descriptions they give an overview and they explain how things work.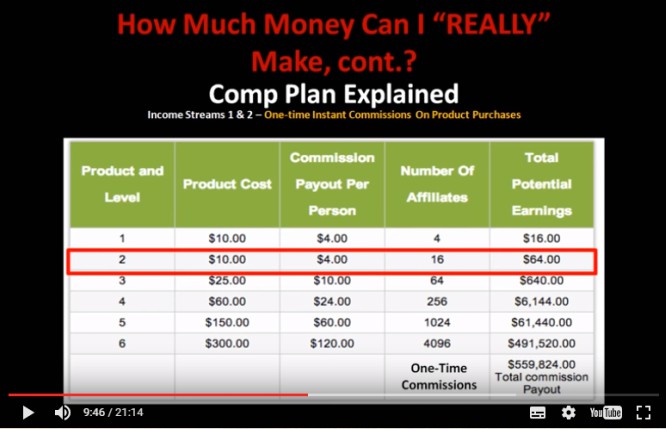 Final Words
As I was expecting the webinar was a total fiasko.The speaker only talked about how much money a person can make without explaining anything else.The most important details were covered in that sleezy presentation.
I don't know anything about the products of the company from that video.The owner of the 12 week millionaire is just a lazy guy who wants to make commissions out of newcomers.He created a landing page , an awful one , and he set up automated responses via email to send people to watch that video that is created by the 4 corners alliance group.
Does he deserve to get paid $18 for that?…well , no , I am not paying that easy when it comes to online opportunities.I do pay companies that are descriptive and do not hide the details of their products.
Additionally you have to be aware of some things before you decide to join this opportunity.
It is an MLM company , so that means that you won't be seeing any returning results on your marketing efforts for a long time.And you will have to recruit people and place them to your downline.Not only , those people will have to work hard and recruit new members so that your inner team will expand before you see any tremendous change in your income.And that procedure takes time , we talk about years.
More importantly when choosing an MLM company you have to be very careful.As a rule of thumb I am not promoting MLM companies that sell digital or informative products.If I want to join an MLM company I will choose one with physical products that are very qualitative and when the reputation of the company is great.In any other case I simply do not join the opportunity.It is a waste of time.
Obviously the 4 corners alliance group team is not proud of their products.It is not for me.As concerns the 12 week millionaire try , I will use only one word as conclusion….Disappointment
That's it , another review has finished , here on Web Market Support.I am waiting for your comments and thoughts.Till next time , your online partner.